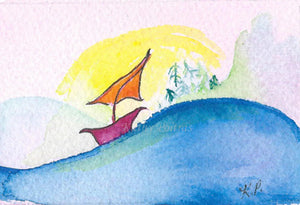 "Boat on a wave" a  3 x 2-inch original mixed media folk art watercolor painting on paper, of a naïve sailboat on a swelling blue wave.  Impression of mountains and sunrise in the background.   By Canadian folk artist Kathy Poitras. 
 Are you interested in learning more? 
I can show you the artwork in a live online zoom meeting or you may book a studio visit in North Vancouver BC Canada. (Lower Lonsdale area).
Please propose a time and date on weekend mornings, or Mon-Thursday 5:00 PM-8:00 PM PST/ 8:00-11:00 PM EST. 
Cheers,
Kathy