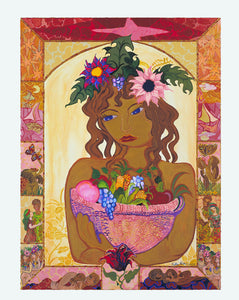 You may purchase a high-quality printable file of this image from the artist. 300 dpi for prints up to 13 x 19 inches for your own personal use.  
The original is an Acrylic painting on stretched canvas.    Ascending Harvest depicts a brown goddess in an archway. She has large flowers in her hair and carries a huge basket of fruit.   In this painting, she strives for spirituality through giving.  The areas of her life are depicted in the border around the sides of the painting.  The border tells the story of her striving to reach spirituality through the act of giving. 
By Canadian artist Kathy Poitras
inspired by the concept of striving for spiritual freedom through improving our dynamics of existence. As she improves in each area, she becomes freer and freer. 
For a high-quality print, I recommend you use fine art inkjet paper available at most art stores.  Your finished product can look and feel like a watercolor painting if you select the right paper.  If you do not have a proper printer most art stores offer print-making services.  And also offer framing services. 

This is a copyrighted image. You may use it for your own personal use. Commercial use and sharing the file on the internet is not permitted.
By respecting the artists copyrights you make it possible for Kathy to continue to create her art.  
There are no refunds on the purchase of a digital download, but if you have difficulty with the file please contact us.  We will be in touch with you within 24 hours to replace or troubleshoot.  
Kathy,