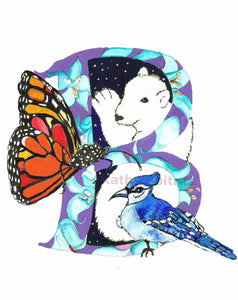 Hand made photographic Personalized Greeting Card. letter B, Butterfly, Bear and Blue Jay, by artist Kathy Poitras.  Made in our own studio.
Options are:  
a 5x7 inch photographic art card.  A photograph of this image is mounted on heavy card stock.
a 5x7 inch fine art, hand detailed  print mounted on heavy cardstock
six photographic art cards for the price of five.  One of the cards is free.