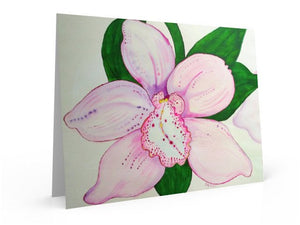 This photographic artwork card featuring an original watercolor painting of a delicate orchid blossom exhibits soft purples and pinks. Perfect for celebrating a special moment, such as a Birthday or Mother's Day.  The piece was artistically crafted by Canadian artist Kathy Poitras. Every card is made with meticulous attention and precision in the artist's studio, rather than mass-produced.

It is a pleasure to receive one of Kathy's photographic art cards. Physical cards are often more significant and memorable than digital cards. 
READ HERE HOW WE CAN ADD YOUR PERSONALIZED MESSAGE TO THE INSIDE OF THE CARD AND MAIL THE CARD DIRECTLY TO THE RECIPIENT. 
 Available in two sizes:

5x7 inches and  8.5 x 11 inches are frameable and impressive.   An envelope is included and the card is protected with a crystal-clear plastic sleeve. 
Please note that the watermark will not be on the art card you receive, and is for Internet viewing only.  
Kathy,