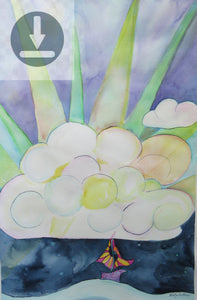 High quality printable instant digital download jpeg of the painting, "A Boat in The Clouds" by Naïve Expressionist  Kathy Poitras. 
The file is a jpeg,  300 dpi for a 12 x 18 inch print.  
For a high quality print, I recommend you use fine art inkjet paper available at most art stores. Many art stores offer fine art print services. 
This is a copyrighted image. You may use it for your own personal use. Commercial use and sharing the file on the internet is not permitted.
By respecting the artists copyrights you make it possible for Kathy to continue to create her art.  
There are no refunds on the purchase of a digital download, but if you have difficulty with the file please contact us.  We will be in touch with you within 24 hours to replace or troubleshoot.