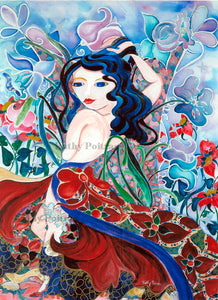 Signed archival print on 13 x 19-inch archival fine art print paper, looks and feels like a watercolor painting.  Of the mixed media expressionist painting, an abstract and beautiful flamenco dancer inspired by my daughter Angela. 30 x 40-inch acrylic painting on stretched canvas. By Canadian artist, Kathy Poitras.
Please allow two to three weeks for fulfillment. 
My emotion was exhilaration while I painted her, and interestingly enough, Angela, (my daughter)  who is just like that all the time, popped into my painting. I looked at it after completing the piece, and said "hey! That's Angela!!!" And everyone agreed it was.
Please note, the watermark is not on the print you will receive. It is for internet viewing only.
Cheers,

Kathy Poitras  
artist