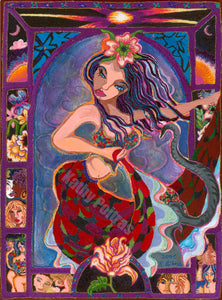 A beautiful lady dances on the back of an elephant.  There is a border around the image creating an archway where she appears.  The original work is paint and hand embroidery 

You will receive a high-quality printable file of the painting.  As the file is very high quality it will make a beautiful print of 16 x 20 inches.  You may take the file to your local print shop or fine art supply store wherever you are and have the print made. Per the artist's copyrights, you may print this file for your personal use, but not for any commercial use or resale. 
I recommend you have the file printed on an acid-free fine art inkjet paper, that looks and feels like watercolor paper. You agree not to send the file along to others who might wish to have a print themselves, but rather, refer them to this website.  By respecting the artist's copyrights you make it possible for the artist to continue to produce and exchange art in the world.
There are no refunds on digital products, but if you have trouble with the file, Kathy will assist you. Please allow 24 hours for support.
There are no watermarks on the artwork, digital downloads, or print that you would receive.