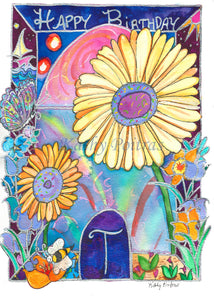 NEW** Now you can request customizations. A change of letter and a change of the message. The changes will be partially done by hand and partially digital.

For a change of letter, you may request a differenc letter, (Which I would do by hand with metallic ink) or a digital shape. I can do basic heart shapes, butterflies, leaves, daisies, cherries, stars and snowflakes. I can add color to the shape.
Or you may order the personalized flower of the month April, Happy Birthday Card. Daisies and the letter T.
A cheerful whimsical cathedral with celebratory bursting rainbows featuring the letter T, and daisies.  Surrounded by a border with naïve images expressing and celebrating loosely the life of tulips.  
Happy Birthday is written on the top. 

A handmade Birthday Card is extra special.   Each photographic card is lovingly hand embellished with a touch of sparkle. 
Cards come with an envelope, crysyal clear plastic sleeve. Each card is signed on the back by the artist. 
Questions: Contact Kathy
Herre is a sample of a customization I recently did for another card of this series: