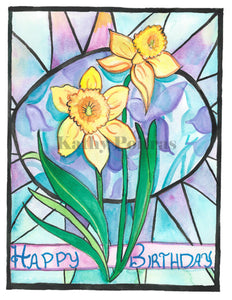 Hand made birthday card, in the naïve folk art style by Kathy Poitras. Inspired by the  birth  flower of the month for March. 
Two daffodils  with a stain glass inspired background. The original was created on watercolor paper.  Reproductions are photographic.  The image is mounted by hand,  to acid free Bristol board (cut and scored by hubby) and the card is then lovingly hand embellished with artist quality glitter paint.  by me, the artist.  
I strive to bring you a card that will delight the recipient, and that may be treasured. A celebration of that person!   

Though it is difficult to communicate the hand embellishments over the internet, they do elevate the card to an even higher level. 
 "Dear Kathy,
I received the cards yesterday. They are so beautiful - even more than on your site! I love the added touch of sparkle with the glorious flowers. The quality is so good - it feels like each one is a real painting." E.K. Ontario 
Questions: Contact Kathy