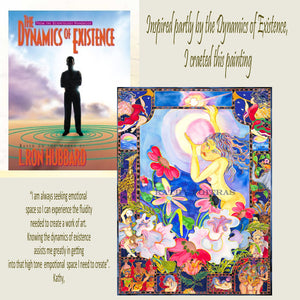 This booklet played a major role in influencing my "Ascending" series of paintings. Along with the booklet, a complimentary 5x7" photographic print of "Ascending" is also included. I am confident that if we use our abilities, prayers, sharing of knowledge, artwork, and actions to lift the world up, we can make a positive change. To craft great work I must find emotional balance that allows for the fluidity I need. Knowing the Dynamics of Existence assists me in getting to that mental space needed to create. 
"The Dynamics of Existence" booklet is based on the works of L. Ron Hubbard. 

Here are the eight urges toward survival or "dynamics" which make up life itself.  This booklet describes these urges toward survival, that I have expressed creatively in my paintings.  
 By understanding these, the tangles of life unravel and you can gain control once again. With the information contained in this booklet, you will learn how to balance your personal goals with your family, work, and every other part of your life.