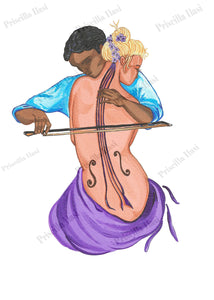 A romantic painting of a cello player 

8.5 x 11 inches
acrylic , ink and watercolor on paper.
Photographic prints are standard sizes, which makes framing easy!   You can select a frame for your print in any major drug store or department store,  frame the piece, place the certificate of authenticity on the back of the frame, and make a meaningful and thoughtful art gift.  
This image of " The Player "is not legitimately available for sale from any other vendor. 
I, Kathy Poitras am the only authorized vendor of this image by Priscilla Ilasi. When you purchase from this website, you are directly contributing to Priscilla's artistic expansion. 
Priscilla is my adult daughter and I have been representing her for many years. 
When in the shopping cart you may select shipping with or without a tracking number. 
For instance, shipping for a 5x7 inch print is $2.00 without tracking in Canada. 
Please note, the watermark is not on the print you will receive. It is for internet viewing only.
Cheers,

Kathy Poitras  
on behalf of Priscilla Ilasi.
artist